Okay, I saw this lovely gem floating around the bloggosphere (no idea if that's how that made up word is even spelt), and I thought it'd be fun to join in. I've been bogged down with school work and exams this past week, and I'll admit there were a couple of days where I wore shorts and a t-shirt, absolutely zero make-up, and had some crazy lookin' hair.. so I decided to fill in some outfit post time with this! Feel free to join in on this link up hosted by Heavens to Meighan, Back East Blonde, and Keeping up with the Cyperts.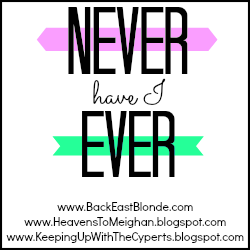 Broken a bone in my body. I don't think I've even come close.. ever. I've sprained my ankle and my foot, but that's about it. Oh, and the tip of my finger got chopped off by a steel door (no worries, no bones were harmed in the process), sorry if that grossed you out.
Taken a legit college math class. I avoid them things like the plague, hello community college calculus. Fun fact: Curtis is a math minor.
how I feel when doing math ---->
Been drunk.. I've only had one alcoholic beverage in my life, and it wasn't until two months after my 21st birthday. It was kind of gross anyway.
Waxed my eyebrows. It just sounds painful, y'all.
Owned a cat.. but I want one! Someday, someday. I do have one stipulation, it has to be friendly and sociable. I've known way too many "scaredy cats."
Read the Bible all the way through, but I'm working on it with my Narrated Bible in Chronological Order. It makes the old testament so much more understandable (aka, you should go get it).
Gotten a speeding ticket, although there were a few close calls. Parking tickets are a different story. I despise you A&M parking people Nazis.