I know I said this the last time I wore this dress, which you can find
here
, but I really do love wearing this dress. It's simple, but the lace pattern is truly unique, plus it can be layered up in the winter time, but can be worn simply for summer afternoons. This is the first time I haven't worn burgundy with it (I own to much burgundy), but change is good in this case. I don't know if you can really tell, but my tights have a pretty cool pattern on them, actually I don't own black tights without patterns on them.. I think I may go pick some plain ones up from Target pretty soon..
I don't really have much to say on this glorious afternoon, honestly, all I want to do is take the beagles to the dog park, lay on a blanket in the grass, and soak up the sun. Summer will be here before you know it, and summer in Texas isn't as pleasant as it might seem. The baseball game last night was fun, but I do believe I enjoy major league baseball much more. Linking up on this fine day with: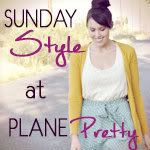 Hope you guys have a fantastic Sunday afternoon! I may or may not be making some slight changes to the blog, depends on how much I get done today school-wise. So don't be alarmed if something's not right, haha! I'll leave you with this, the epitome of perfect days for Miss Muggles; windows rolled down, beagle ears billowing in the wind, and that little brown nose taking in all of those magnificent smells!
____________________________
Dress:
Ruche
Belt:
New York & Co.
Tights:
Express
Wedges:
Target
Earrings:
Lauren Conrad
via
Kohl's
_____________________________

ps. Curtis and I just booked our Honeymoon cruise, I am soooo excited!